On this photo, European Commission President Jean-Claude Juncker (right) receives a medal from Ukraine's President Petro Poroshenko.
By Steve Sweeney in Britain:
Friday, May 17, 2019

Ukrainian newspaper faces ban – for quoting Marx

UKRAINIAN journalists have called for international solidarity as press freedom comes under attack, with workers' newspaper Rabochaya Gazeta facing closure under reactionary anti-communist laws.

The newspaper's editor Anatoly Krivolapov appealed to progressives across the world to protest against the attacks on freedom of speech and the legal measures being used against media organisations critical of the Ukrainian government.

"Your principled position and support will contribute not only to the preservation of our publication, but also to enhance the role of other media in the achievement of rule of law, social justice, public order and peace in our long-suffering country," he said.

Rabochaya Gazeta was first published in August 1897 and aims "to honestly and fully disclose the real situation in Ukraine" including exposing the activities of government bodies and a critique of state policies.

However, authorities are seeking to ban the newspaper using a law that outlaws the use and display of communist symbols. The Ministry of Justice cited articles in Rabochaya Gazeta quoting Lenin and Marx, along with commentary praising the achievements of Ukraine during the Soviet period.

Ukraine has previously been warned by the Council of Europe over the introduction of the legislation. The council said that it must protect freedom of expression and comply with international laws.

The Vienna Convention said the law, On Condemnation of the Communist and National Socialist (Nazi) Totalitarian Regimes in Ukraine and the Prohibition of the Promotion of Their Symbols
This law has a hypocritical name. On the one hand, what happens to an Ukrainian singing the Internationale; the song not just of communist, but also social democrat parties all over the world? That Ukrainian gets a two year prison term if singing it alone. Fife years imprisonment for singing it in a choir.
On the other hand, Ukrainian officers of Adolf Hitler's SS get honoured with governmental monuments. And it is illegal to criticize World War II nazi collaborator Stepan Bandera and similar politicians.
As for symbols: see the logo of today's Ukrainian Azov battalion.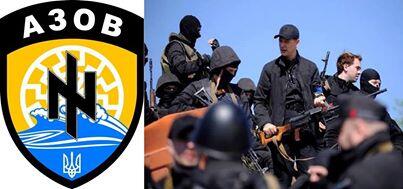 This picture (also reproduced on the Facebook page of the Dutch NVU nazi party) shows the symbol of the Ukrainian Kiev government's Azov battalion; source: here. It is the wolfsangel, or wolf's hook. Which used to be a symbol in Adolf Hitler's Waffen SS. It was also the symbol of the Dutch nazi party NSB in the 1930s and 1940s.
The Azov battalion logo has, behind its black wolfsangel, also another nazi SS symbol, depicted in white: the 'schwarze Sonne' or black sun; 'taken from the pattern on the floor of the northern tower of Wewelsburg castle, which Heinrich Himmler had rebuilt. It looks like a combination of a spider web and a swastika.'
– was a breach of human rights, in particular the right to freedom of expression, freedom of association and assembly, and voting rights.

However, Mr Krivolapov warned that under the regime of former president Poroshenko, "totalitarian methods of government were introduced…an open struggle was started against dissent and freedom of speech, journalists were persecuted and killed."

"Our publication criticised the national oligarchic group headed by president Poroshenko for total corruption…unemployment and the sharp impoverishment of the majority of the population…the war in the Donbass, the propaganda of fascism", he said.

He said the attack on Rabochaya Gazeta was also a threat to "other newspapers, magazines and TV channels attacked by the regime" and the basic principles of press freedom.

"We call for authoritative international organisations and colleagues abroad to express their protest against the legal arbitrariness against the media, and to stand for the protection of freedom of speech in Ukraine."
Source: // Dear Kitty
Editor says #AceNewsDesk reports & #Brittius says are provided by Sterling Publishing & Media News and all our posts, links can be found at here Live Feeds https://acenewsroom.wordpress.com/ Ace News Services Posts https://t.me/AceSocialNews_Bot and thanks for following as always appreciate every like, reblog or retweet and free help and guidance tips on your PC software or need help & guidance from our experts AcePCHelp.WordPress.Com or you can follow our breaking news posts on AceBreakingNews.WordPress.Com or become a member on Telegram https://t.me/acebreakingnews all private chat messaging on here https://t.me/sharingandcaring